A former JMU student creates an innovative music studio | Culture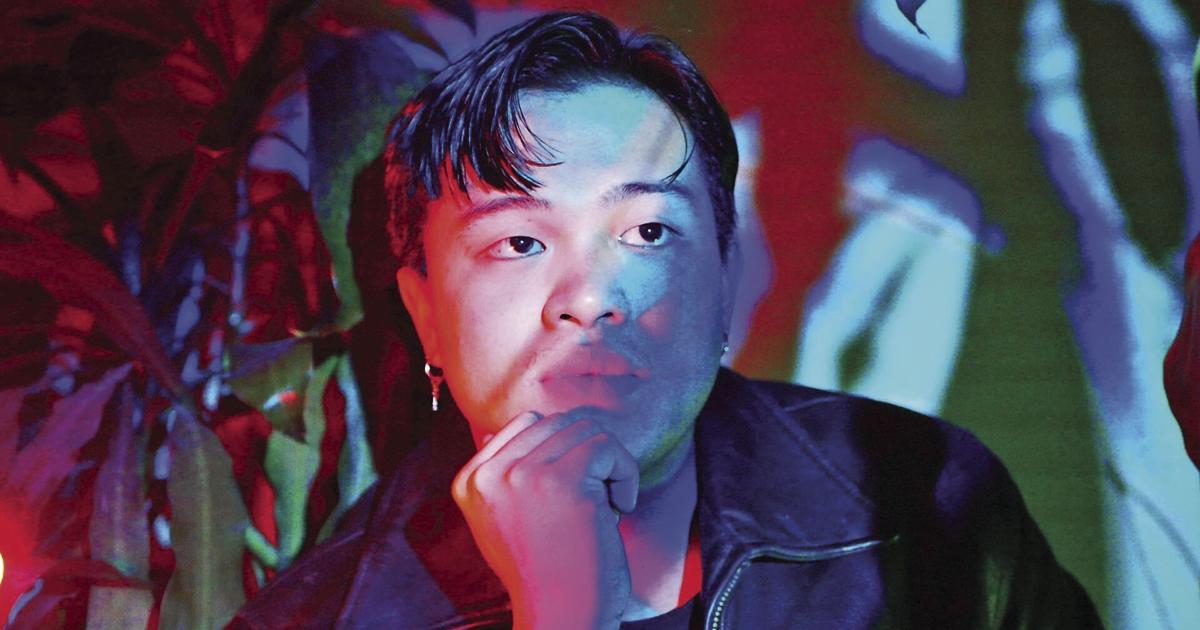 Due to the changing work environment that fluctuates with each new wave of COVID-19, many students have accepted remote and home-based jobs after leaving school. Former JMU student Leif Jomuad has taken it to the next level by building a fully functional recording studio in the basement of his family home.
Jomuad, who left JMU to pursue music full time, runs his self-made business out of the studio, recording music for himself and his clientele.
Jomuad is a self-proclaimed "full-time music maker" [his] mom's basement. He runs his business from the studio, where he produces tracks and records vocals from the basement. Jomuad also releases music himself, composing songs inspired by 2000s pop and R&B under the moniker "LEIF."
His fondness for music began in the Philippines before his family immigrated to the United States. As a child, Jomuad told his kindergarten class that he could play guitar and sing in a talent show even though he had no prior musical experience. He was forced to pick up the guitar and soon realized he had a knack for it.
Jomuad's passion for music continued, leading him to major in music with a concentration in music history and join JMU's male a capella troupe, Exit 245. During his time with the band, Jomuad was a musical director, gaining experience booking studio sessions and gigs. . To fulfill a major requirement, Jomuad completed an internship at Sweet Spot Studio in Annandale, Virginia.
"Within a few weeks they decided they wanted to hire me, and that was the first time I really realized, wow, I'm pretty good at it," Jomuad said. "I started working on a lot of projects, from working with clients to writing songs for other artists…and I really tried to climb the ladder by meeting as many connections as I could."
Jomuad ultimately decided to drop out of JMU and pursue a full-time career as a musician. Although he has already started to break into the industry, the pandemic made Jomuad doubt his "risky" choice to pursue music. After repeatedly coming home late from working at another studio, Jomuad's parents offered him the opportunity to start his own studio.
"We have a whole basement that's completely used as storage… My mom was like, 'You should pay the rent there and pay the bills and so on, but we'll let you use it,'" said Jomuad.
Jomuad—with the help of his parents—renovated his family's basement into a studio over the next three months. He saved money by completing the build himself, rebuilding the basement floor and walls, and learning how to "acoustically treat" a room by placing sound-absorbing panels on the walls to ensure sound quality. optimum recording. The space is now outfitted with speakers, microphones, and neon signs reading "breathe" and "good vibes."
Jomuad's business is called "Back House Studios," which he says is "very fitting for the vibe" because his customers enter through the basement's back door.
Jomuad said his clients appreciate the laid-back atmosphere he has cultivated in the studio, with many JMU students seeking out Jomuad to produce their music. Some students discover him as the "musical director grandfather" of Exit 245, with Jomuad promoting his services at various a cappella events. It usually takes him between four hours and a few days to completely finish a song. It charges customers $55 per hour to track and mix their song and $50 to master the recording.
Last summer, freshman Grace Lastova – a member of the Bluestones, the "sister band" of Exit 245 – wrote a song called "Romanticize" on guitar. After being referred to Jomuad by the producer's former co-stars in Exit 245, Lastova visited Back House. The two collaborated to produce the song and added harmonies and rhythm behind Lastova's vocals.
"I felt so authentically myself in the studio, and I was so comfortable recording with [Jomuad]"Lastova said. She noted that initially she couldn't sing the song without crying, but during the recording sessions with Jomuad, she went through the entirety of the song and felt "empowered. ".
Jomuad also produced for his former members of Exit 245. Freshman Devonte Garcia, the current musical director of Exit 245, hired Jomuad to produce a cover of his parents' wedding song, "Back At One" by Brian McKnight, as a birthday present. Garcia originally wanted the song to be consistent with the soulful arrangement of the original, but Jomuad convinced him to create an all-new version of the song.
"What I love about Leif is that he creates everything from scratch. There's nothing he uses that's already done," Garcia said, eventually allowing Jomuad to add a "early 2000s touch" to the song.
Although Jomuad has tremendous experience producing for outside clients, he now focuses on his own music. He plans to release a new song every month – his most recent is a song called "Paradise", released on January 31 via his independent music label, Back House Studios.
Jomuad has previous experience dealing with record labels, negotiating with larger boutiques and labels. He ultimately refused to sign with a label to avoid agreeing to a 360° deal – a contractual arrangement in which a record label is assigned a percentage of each artist's revenue stream, music-related or not. . According to Vice, these deals are notorious for limiting an artist's chances of profiting from their own work and from outside commercial ventures.
"I'm able to represent myself without needing a label," Jomuad said. "I'm so pro-indie because it works as long as you've built your brand."
Going forward, Jomuad plans to stay independent and move to Nashville to make new connections in the music industry. Although he said Back House Studios will remain intact in case he decides to work with his constituency of Washington, D.C., Maryland and Virginia (DMV) again, Jomuad says he has a can-do attitude and determined work ethic that will help him. allow it to thrive wherever it is.
"Do I want to explode and be the next Bruno Mars or Billie Eilish or whatever?" said Jomuad. "Obviously, I feel like everyone wants that… But right now, being able to take control of my life and do what I really want to do, which is create music , that's really my goal."
Contact Jake Dodohara at [email protected] To learn more about the culture, arts and lifestyle of the JMU and Harrisonburg communities, follow the Culture Bureau on Twitter and Instagram @Breeze_Culture.