Brooklyn Park Music Studio Gives Teens Music and Life Lessons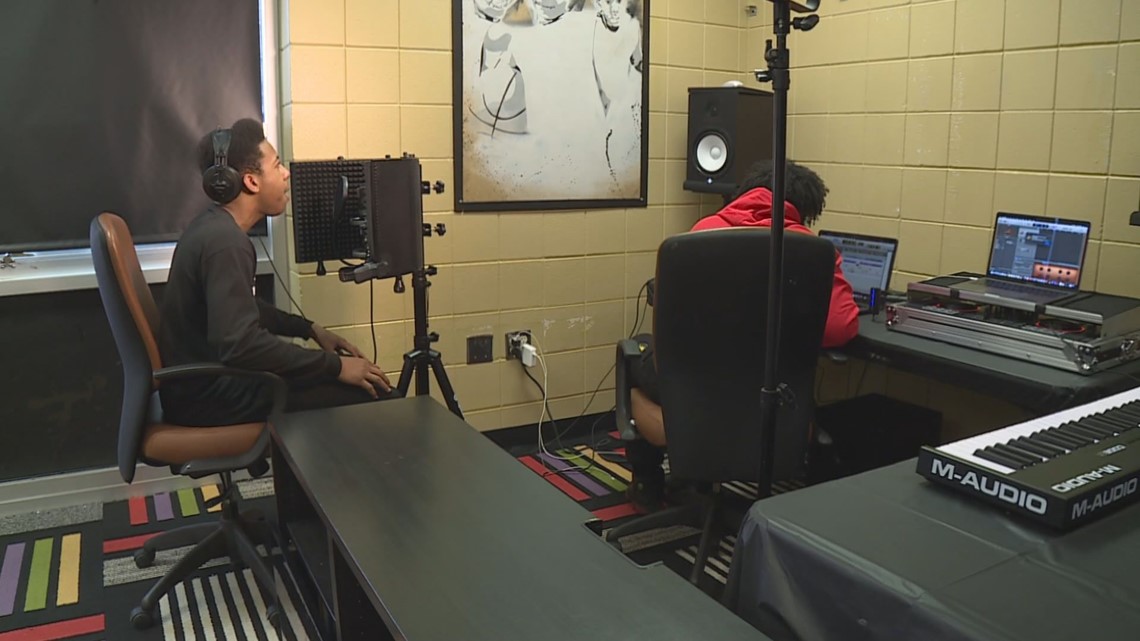 Executives say they've seen teenage behavior improve since the recording studio opened last fall.
BROOKLYN PARK, Minnesota — Every Thursday this Black History Month, KARE 11 Sunrise shines a spotlight on black people in Minnesota who are making history.
Last fall, they added music production to a long list of teen and family shows at Zanewood Recreation Center. They did so by opening a state-of-the-art recording studio there, with the city of Brooklyn Park taking note.
Already, the teenagers have worked together to produce a Christmas song from scratch. Park Center High School senior Omarion Neal wrote and sang the lyrics.
"Thank you Grandma for that," Neal said. "My grandmother [has] the same voice."
But the songs that budding musicians create aren't always upbeat and bright.
"Growing up, as a young black man, you have to go through a lot," Neal said. "Before making music, I was always into something and like music was a way to keep me out of trouble. Like hanging out with the wrong people."
Taylor, whose stage name is ConcreteRose, narrates.
"I grew up on the streets of downtown Chicago," Taylor said. "Back then, in the '70s, the responsibility of getting by on the streets, whether it was just to go to the store, you kind of had to put on your armor. You don't know what's going to happen."
RELATED: Kids as Important as Celebrity Clients for Minnesota Barber
Today, she draws on her upbringing and experiences working with youth in Georgia to help teens here in Minnesota.
"I tell them to write it down," Taylor said. "Turn it into a song, turn it into poetry, then when you're done you can either burn it or if you want to record it, we can record it."
Neal, who is also a solid drummer, says the studio has changed the way they approach music.
"I actually learned how to start and end a song and put my feelings into a song," the 17-year-old said.
One of these songs is called Dream. Here are some lyrics:
"I want to go away and be left in peace. I can't do this anymore. I'm begging for help, please. Dodging bullets, fighting crimes, that wasn't me destined. Making music, making money, that was my favorite dream."
Studio time is available for teens at the recreation center after school, but there is a condition attached to its use.
RELATED: The Story of "Arm in Arm in Africa"
"There's a bigger teen center here," Anderson AKA Koo Keem of Empire X Music said. "They know that, hey, this is one thing I want to do. So if I'm acting crazy here, there's no way they're letting me in the studio."
The policy has led to improved behaviors and attitudes.
"We've seen a lot of growth here," Taylor said. "Children [are] become comfortable with taking responsibility for things and they learn to follow the rules and accept discipline."
RELATED: Black Jewish Chef Serves Courses With Her Meals
In addition to the various activities available year-round, Zanewood offers job opportunities for teens.
RELATED: Black History Month: St. Paul's First Female Patrol Shares Her Story
RELATED: Black Jewish Chef Serves Courses With Her Meals
RELATED: Minneapolis Honors Longtime KMOJ Host