Cornerstone Music Studio offers a new musical experience in Lebanon | Local News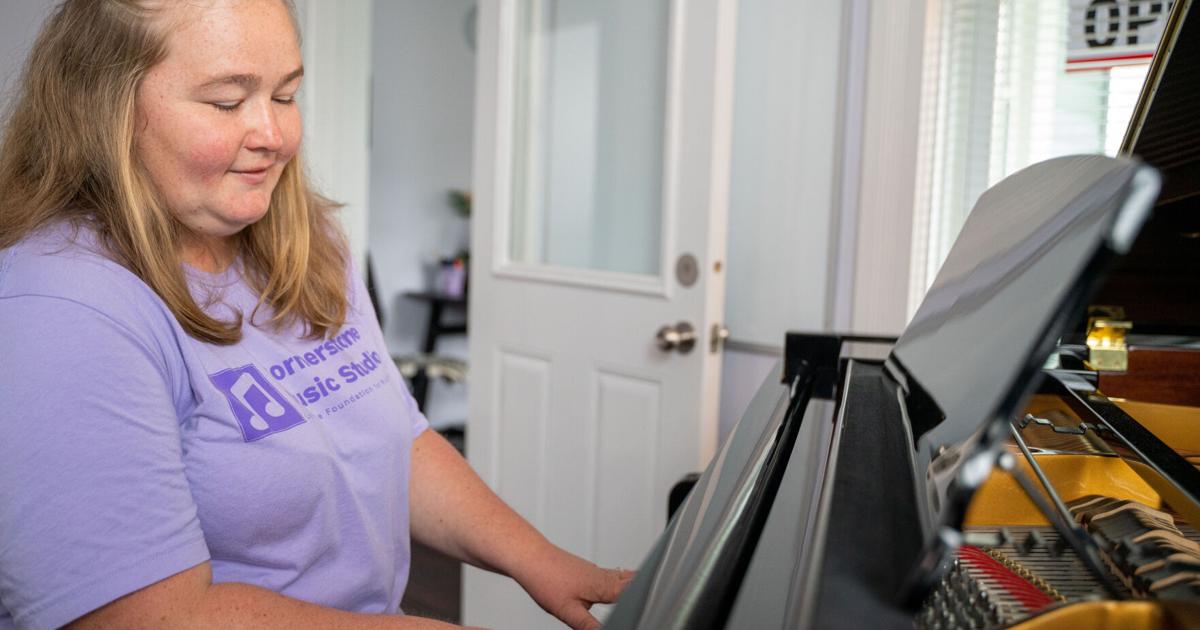 Walking along S. Lebanon Street here, pedestrians might be able to hear the faint sound of a grand piano playing a catchy tune, and who knows, the next Beethoven or Mozart might be playing.
According to a 2019 study from the American Psychological Association (APA), students who take some kind of music class perform significantly better on math and science exams than their non-musician peers.
Owner of the brand new Cornerstone Music Studio, Cati Ferguson recently returned to Lebanon after living in the Orlando area for 11 years and says she is very happy to be home.
Ever since she was 9 years old, Ferguson's life has involved some form of music. She grew up in Lebanon, a stone's throw from her new business. She and her siblings were home schooled and it was there that she discovered her love of music.
Ferguson has stated that she tended to be a copycat of her sisters and once her sister took an interest in percussion, she did too. On a trip to a local music store, Ferguson's siblings were getting their instruments and, long story short, she said her parents didn't want to have so many drum sets at home.
"They told me to get a year of piano under my belt just to get the basics," Ferguson said.
She said she went back and tried playing drums and she doesn't like it as much as she likes piano, so she feels like she's found the right fit for her.
"[Being homeschooled] really helped me because in high school I took piano, guitar and violin lessons and had my own practice routine," Ferguson said. "I could do an hour of piano, then switch to guitar for an hour and a half, then switch to violin. Then, I was able to give private lessons at 15 years old.
Ferguson was able to teach these private lessons through a now-defunct student-teacher program at the Family Music Studio with Barbara Walters.
"It really helped me to have his support," she said.
After high school, Ferguson knew she wanted to do something music-related but couldn't find her way.
"I wondered if I wanted to do music education or do church music," she said. "I went to a small Christian college and they offered both."
Ferguson eventually graduated from Johnson University in Florida in 2015 with a degree in Biblical and Musical Arts, then from the University of Central Florida in 2017 with a Masters of Music with a major in piano pedagogy.
Although she was still part of the music within the church, she found she didn't want to do it full time.
"I knew I would want to continue to be a part of this, but I didn't know if I wanted this to be my career," Ferguson said. "God showed me and it became clearer that teaching was my calling."
Since she was always involved in her church's music program, Ferguson was there quite often and it was there that she met her husband, Brian.
His faith also played a part in the naming of his studio. For her, Christ is her cornerstone, a founding piece of her life, but it also has a double meaning because her workshop is around the corner.
Now back in Lebanon, Ferguson is able to offer music lessons in the place where she fell in love with music. She has over 15 years of teaching experience and can teach students from 3 years old to retired. Cornerstone Music Studio offers private piano, guitar, violin and ukulele lessons. It also offers small group ukulele lessons as well as five piano skill levels.
The price of lessons ranges from around $20 to $30, depending on the time and if it's private or in a small group.
To schedule a lesson with Ferguson, visit the website at cornerstonemusicstudio.com.