Flint Music Studio providing a creative space for Flint artists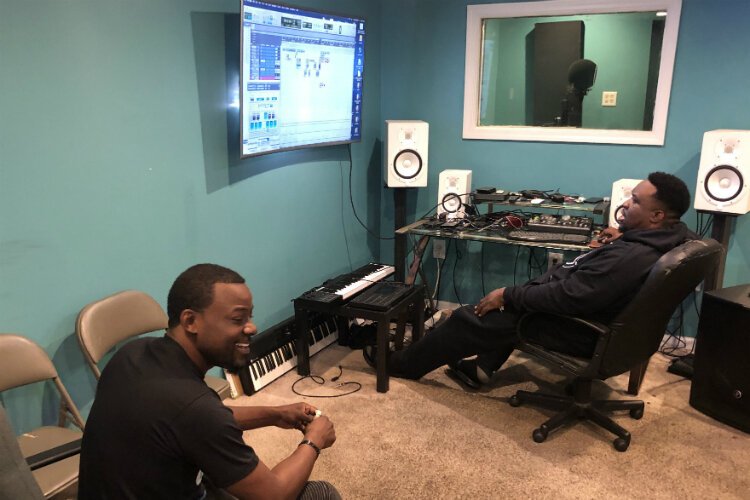 FLINT, Michigan—Akeem Brown grew up watching his older brother create beats and music and wanted to follow in his footsteps.
"When I started using his computer, I just started trying stuff and made my first beat when I was 11," Brown said.
When the neighborhood kids played outside when he was growing up, he was in the house.
"I had two little radios with two cassette players, and I was playing the piano, doing the beats, and recording on the tape and switching tapes," Doan said. "I was recording before I even knew what recording was."
Now, as adults, Brown, 32, and Doan, 38, have combined those passions for music to create Superior Outlet (1705 S. Saginaw St.), a professional music production and engineering studio. The studio opened in November and offers a full range of production services for artists, including songwriting, beat making, mixing and mastering, and more. They also work with a variety of genres, including hip hop, R&B, pop, trap, soul, gospel, rock, blues, and more.
"We've got a bit of everyone, different genres, cultures, radio-promoted events recorded here," Doan said.
Together, Doan and Brown have over 20 years of music experience. Both have owned studios before, both have collaborated with a range of artists, Brown is a DJ (DJ Fat Jordan), Doan plays piano, drums and bass guitar. They connected because their passions for music and their work ethic were compatible.
"We met, I saw his grind and he saw my grind and we bonded quickly," said Doan, who grew up in the Civic Park area of ​​Flint.
Along with wanting to turn their love for music into a business, the two are also passionate about giving back to Flint's young musicians and artists. In fact, starting in October and running through the end of 2019, they're offering free recording time to anyone in Flint between the ages of 10 and 17.
"I'm amazed every day at the talent of the kids who come here," said Brown, who grew up in Beecher. "Growing up, it was hard being young and trying to go ask for help. I went from almost having to pay people to listen to me when I was growing up to now being paid to work with other artists. I want to be able to create opportunities and give back.
Brown worked with a who's who of up-and-coming Flint musicians, including Louie Ray, YN Jaylein, Presidential P, Richyy, and more.
"Six or seven years ago there weren't a lot of rappers in Flint," Brown said. "Now everyone who makes noise records with me. It feels good to go to a club and release all the local music, if you have 20 songs here, at least 10 were either produced by me, be recorded by me. It really feels good to see the progress."
The studio provides these emerging artists with the space to grow and collaborate.
"We just had one of our best sessions recently, there were about 30-40 of us in the studio," Brown said. "It was one of the most powerful sessions I've had with so many artists, producers and engineers working together at the same time. I had worked with each of them individually, but to be able to make them all coming in at the same time, it was amazing, working nonstop from 7 am to 7 pm.
Brown and Doan hope the studio will become a successful business in Flint's growing downtown core and a creative outlet for artists in the city, but they also hope it will play a role in helping artists break new ground. stage in their career.
"We want to make a deal with an artist," Doan said. "We want to connect Flint directly to the music industry. We want someone to really carry the Flint name and put Flint front and center, and I think that's going to happen very soon.
Doan and Brown also make sure to share their knowledge and history of the Flint music scene with the young people they work with.
"They don't really know the history here. There aren't too many people who can break down the history of Flint music," Brown said. "Big respect to the Dayton family. I grew up with them because of my older brothers. All we did was listen to Flint music – but at the time I didn't even know that was it. was Flint's music. I just wanted to be like my brothers, so I knew all the songs and all the words, but I didn't know who it was until I was older. Now I can to sit here and show the kids and pay homage to the OGs who showed us the way I try to keep the story alive.
Future plans for Superior Outlet include connecting with grant writers to obtain additional instruments and gear that young people can borrow and take home to work on their music outside of the studio. Currently, space is available for musicians for $30 an hour and hours are flexible – "Even if someone is on second shift and needs a session at 4 a.m., I try to make sure customers are as happy as possible," Brown says.
The studio allows Brown and Doan to combine their passions with their careers. Running a business and providing a creative outlet for Flint's artists and youth are priorities, but the bar of success for Superior Outlet can be summed up even more simply.
"When I can take care of my mom and let her do what she wants to do, that's how I know we've done something," Brown said.
For more information, call (810) 471-8704 or check out Superior Outlet on Facebook and Instagram.