Hutton Hotel in Nashville: Stay and Play with a Music Studio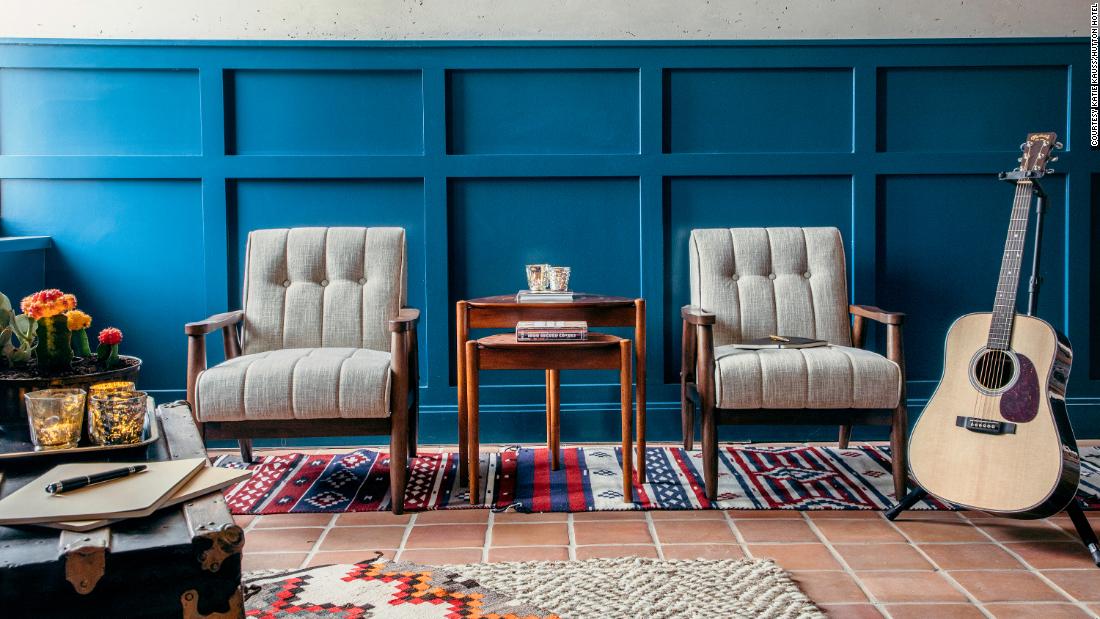 (CNN) —
Nashville's reputation as a music city just got established a little more thanks to a new pair of writing rooms-slash-recording studios, which just opened in one of the best hotels- town shops.
The Hutton Hotel in the West End added two writers' studios with state-of-the-art recording equipment in December 2017.
The hotel is popular with musicians, managers, music directors, and other industry professionals. The addition of the Writers' Studios was therefore a decision to respond directly to those who stay there.
"We wanted to invoke a sense of creativity – unhurried creativity – and a place where artists who stay with us can feel inspired," said Jonathan Bartlett, General Manager of the Hutton Hotel. "We have, I think, most likely created one of the first writing places in town for this.
"Our location is steps from the heart of the music industry in Nashville. The entire music industry is basically on Music Row, which is just a few blocks from our hotel."
Musician Ryan Tedder co-designed this suite, which has plenty of natural light to record.
Courtesy of Katie Kauss/Hutton Hotel
In fact, you've probably heard a song on the radio that comes from Writers' Studios: "The Middle," by country singer Maren Morris and DJ/producer Zedd. The infectious song, which reached No. 1 on Billboard's Pop Songs radio airplay chart, was written and recorded there.
The Writers Studios are part of a 2017 multimillion-dollar renovation to the four-star, four-diamond hotel.
The renovation gave the rooms and restaurant a makeover, as well as the addition of Analog, a cocktail bar and a 300-capacity concert hall, in what was once its parking lot.
The hotel hired Dallas-based Studio 11 Design to decorate the studios.
"We wanted it to feel like a home for these artists and writers," Kellie Sirna, director of Studio 11 Design, told CNN Travel. "We needed [studio] feel really comfortable where two or three people might be writing with guitar in hand."
This meant bringing in homey touches, such as candles, books about the Nashville music scene, a jar of candy corn in one of the rooms, and "a lot of the furniture actually came from local antique stores."
Furnishing spaces for musicians meant approaching design in a slightly different way than interior designers were used to.
"We really had to watch the armrests," Sirna continued. "And the sofa style, [we had to] make sure it was deep enough for them to sit and scratch [guitars]but then have a writing surface to write and type."

Country star Dierks Bentley not only co-designed a studio room, he also recorded his latest album there.
Courtesy of Katie Kauss/Hutton Hotel
Fortunately, Studio 11 Design has had some top-notch help in the form of musical expertise: stars Dierks Bentley and Ryan Tedder of rock band OneRepublic.
The West Room, co-designed with Bentley, carries a southwestern vibe thanks to the singer's Arizona roots. An authentic Southwestern Navajo rug covers the floor of the saltillo, unglazed clay tiles native to Mexico.
And, at Bentley's request, his favorite image of Johnny Cash, taken by music photographer Danny Clinch, adorns the walls.
The equipment in the west room, which can accommodate 16 people, includes microphones, a piano, four guitars and an amp.
Bentley left some of his picks in the room, so Sirna and his team started a "selection pot", in the hope that future musicians will leave picks behind and potentially create a work of art from them. them.
Tedder helped design the East Room studio, which seats 12 people. It evokes a funky Brooklyn loft and, at her request, Sirna said, has "lots of natural light."
A wooden chandelier came from Barcelona, ​​a coffee table in the shape of a wagon on wheels was imported from London and the sofa came from the Netherlands.
The design firm also sourced an old writer's desk from the 1900s – "almost like a student desk", Sirna said. Rounding out the design is a camel saddle, i.e. a saddle intended for riding camels. It sits on the floor and can be used as a chair or guests can rest their feet on it.
Recording equipment in the East Room includes four guitars, microphones, professional-grade monitors and an amp. And of course, both rooms have their own acoustic isolation booth for recording vocals.
To rent one of the studios, the visitor does not need to be a guest at the Hutton Hotel, Bartlett said. (Additionally, Hutton Hotel room service is available from either studio at all times.)

The Hutton's downstairs bar, Analog, also has musical inspirations.
Courtesy of Nils Schlebusch/Hutton Hotel
Each room in the studios rents for $300 a day, and they usually rent for the full day.
However, some musicians enjoy free access to studio spaces, thanks to a partnership between the Hutton Hotel and Creative's Day, a nonprofit that helps Nashville's arts community.
Creative's Day artist residency at the Writers Rooms is "for singer-songwriters [who] will have eight hours a month for four months to use the writing rooms," Bartlett said. "They can do everything from writing to recording, and the goal is to hopefully produce original work.
The first artist residency is underway and will conclude in June with performances at Analog.
And if the world-class musicians, recording studios, or in-house concert hall aren't enough for you, there's, well, the rest of Music City.
Hutton Hotel1808 West End Avenue, Nashville, TN 37203, +1 (615) 340-9333