Smoodz – Young talent and musical artist coming to the Bahamas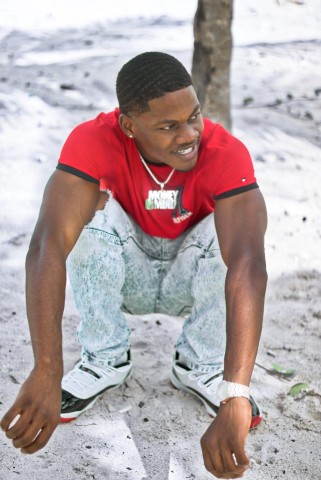 On December 1, 2001, Dray Jaquan Darcy (also known as Smoodz) was born in Nassau, Bahamas. Although he constantly listened to music as a child, he never developed the desire to create it. He was persuaded by several buddies to participate in a fun fight rap game when he was a sophomore in high school. The first time Smoodz tried rapping, he immediately fell in love with it. Using an iPhone and a set of headphones as studio equipment at the time, he began recording an increasing number of songs in his closet. Smoodz started experimenting with several recording studios after graduating from RM Bailey High, including Pikliz Beats, FILM Studio, and OEU Studios.
In 2020, Smoodz stayed and collaborated with FILM Studio producer Zamar Saunders for an entire year. He decided to invest in his studio while considering musical projects, and today he is CEO of his music label, From The Bottom Records, which is centered in Nassau, Bahamas. Breion is Smoodz's first contracted artist, and you can expect to hear from them both throughout the coming year 2023.
Towards the end of 2020, after signing a contract with his label and releasing his critically acclaimed debut single, he began to experience professional success. He overcame several challenges along the way and will continue to work hard every day to advance his music career.
Reach 5 million streams on Spotify
Smoodz is an upcoming artist in the Bahamas. He recently achieved 5 million Spotify streams. More people are listening to music than ever thanks to streaming, which has also made it easier for independent and smaller musicians and has largely eradicated music piracy. These arguments all support the idea that streaming is good for the music industry and will help Smoodz succeed as a musician in the future.
Due to the popularity of streaming services, more people than ever are listening to music from more artists. Instead of being limited to only listening to the album they recently purchased, consumers can now tap on a song to hear it immediately. For this reason, Smoodz is on the way to success in the near future.
Emerging Artist on Spotify
After reaching 5M Streams, Smoodz is now considered an emerging artist on Spotify. Since Spotify now allows music artists to add new songs to be considered for playlists before they launch, new musicians like Smoodz have taken advantage. The artist will receive a release day reminder inviting them to meet their fans if a playlist curator chooses to include a song by them in a Spotify-branded playlist. It greatly helps to advance in the music industry. Additionally, Smoodz uses the tagline "From The Bottom!" as the name of his label and as a way to firmly embrace his journey from the start. Dray Jaquan Darcy aims to see new heights of success in the music business in his future!
To contact Smoodz, visit the link:
https://distrokid.com/hyperfollow/smoodz/view-from-my-eye
Youtube: https://youtube.com/c/SMOODZFTB_From_The_Bottom
Instagram: https://instagram.com/smoodz_official?igshid=YmMyMTA2M2Y=
Facebook: https://www.facebook.com/SmoodzFromTheBottom
Media Contact
Company Name: From bottom folders
Contact person: Media Relations
E-mail: Send an email
Country: Bahamian
Website: https://distrokid.com/hyperfollow/smoodz/view-from-my-eye