Sony WF-1000XM4 headphones review: If you love music, get it NOW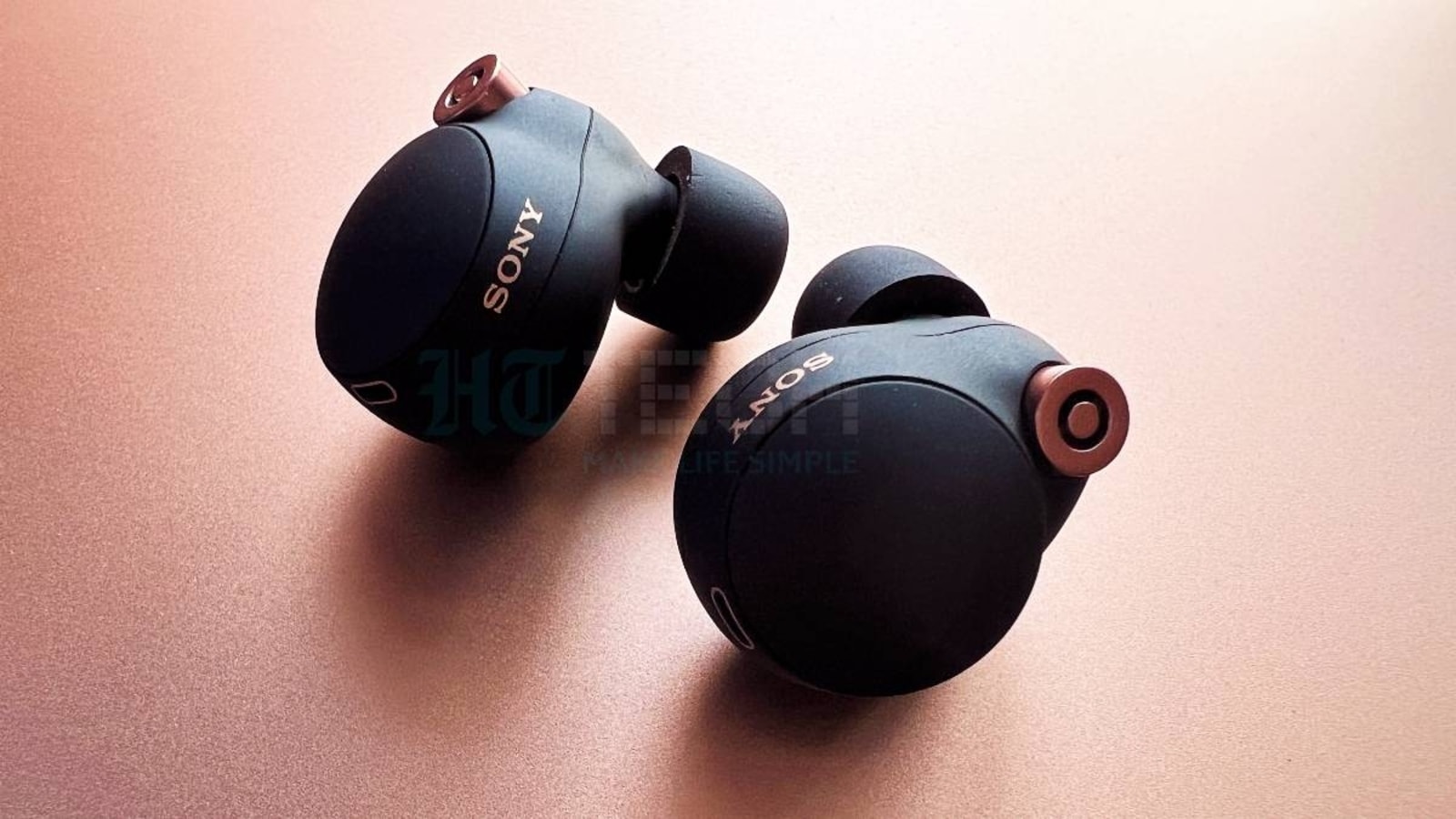 The Sony WF-1000XM4 headphones are currently the best all-around TWS headphones you can buy today. Period. Here's our full review for more details.
If you're looking for great sound quality from your TWS headphones, you have to look at Sony's collection. No one knows mass market taste as well as Sony and no one tunes it so perfectly to appeal to almost any ear. The Sony WF-1000XM4 was released last year and thanks to component shortages, we were only able to get it in India now. Priced at Rs. 19,990, these headphones undercut the other two popular flagship headphones we love – the Apple AirPods Pro and Sennheiser Momentum True Wireless 3.
Therefore, the Sony WF-1000XM4 has a big job to do this time around (and a weirdly big name) to help position itself as the de facto choice for music lovers. And you know what? It does a lot of things the "Sony-way", and I have no problem admitting that these are the best overall sounding pair of TWS headphones I've heard this year. The Sennheiser Momentum TWS 3 is still the king of pristine audio quality, but the WF-1000XM4 is very easy to pick up compared to all of its rivals. Ask yourself why? We will discuss in detail.
READ ALSO : Sennheiser Momentum True Wireless 3 Review: WOW, such pure sound!
Design and manufacture of the Sony WF-1000XM4
The previous generation Sony WF-1000XM3 looked too fancy, from the case to the headphones. Sony seems to have scaled things down a bit with this generation, and the result is that the Sony WF-1000XM4 doesn't seem any more attention-hungry than the Apple AirPods Pro. Is it good or bad? It's up to you to decide. The design, despite its simplicity, looks premium, especially the casing with its large, classic Sony-style LED indicator. The headphones themselves are among the biggest on the market, but they fit well in the ears and the gold element makes them look more like earrings or ear accessories (fashionistas will find this appealing) .
Unfortunately, I wish I could praise the build quality of the case. It's made of hard plastics that aren't comfortable to hold, have nasty panel holes, and scratch easily. The casing can, in fact, show signs of wear and tear within days – something I wouldn't like to see on a set of high-end headphones. That said, the case supports wireless charging, which is a plus for those who have phones with the reverse wireless charging feature.
Sony WF-1000XM4 audio performance
We loved the Sennheiser Momentum True Wireless 3 for its rigorous approach to balanced audio performance, and the Sony WF-1000XM4 does it the other way around. You're buying a pair of Sony headphones for meaty mids and a bit of low-end punch – you get that with the Sony WF-1000XM4, but in a controlled way. Out of the box in its standard tuned state, the WF-1000XM4 likes to keep everything clear, detailed and rich. Mid frequencies are rendered beautifully while highs are on par with the Sennheiser Momentum TWS 3 – clear and distortion-free.
Unlike the Sennheiser though, the low end has a bit of grunt and that makes all the difference. Therefore, whether you're listening to a slow Bollywood number or Hip Hop from across the oceans, it always sounds energetic and moving. I found myself wearing the earbuds much longer than I've worn any other pair of earbuds.
The superb noise cancellation system, which is by far the best I've heard (or not heard, or heard? Forget it!), contributes to this stellar audio performance. Sony offers its smart noise canceling feature which performs noise isolation itself based on ambient noise. But take the manual control and it's easy to understand the difference. In the loudest noise cancellation setting, the Sony WF-1000XM4 simply cancels out the environment, like a rattling window air conditioner, ceiling fan, annoying kids next door, and even barking dogs. And it does all of this without creating that annoying in-ear pressure that's a problem with the Apple AirPods Pro. I left it on auto mode through the Sony Headphones app and the headphones made all the hectic decisions of picking the right mode for me.
Without ANC, passive noise isolation through the ear tips is also good. Although I prefer to stay in transparency mode during calls for more comfort. Since we're on a call, the Sony WF-1000XM4's microphones aren't the best, but they do the job very well – voice reception isn't as good as the AirPods Pro.
Sony also supports spatial audio, or 360 Reality as Sony likes to call it. Unfortunately, support is limited to a few apps, and Apple Music and Amazon Music are not on this list, so I couldn't test it.
Sony WF-1000XM4 smart features
The Sony WF-1000XM4 is packed with plenty of smart features, some of which dramatically improve the experience, and some of which require more work. For example, the Adaptive Sound Control feature, which works wonderfully, adjusts noise cancellation levels based on ambient sound. In my quiet bedroom, it boosts ANC to isolate ambient noise from fans and air conditioning. When you walk outside, it detects movement and activates transparent mode to let you be aware of the surroundings. Of course, you can take manual control if needed. Brilliantly executed, well done Sony.
But there's also the Speak to Chat function which pauses the music even when you cough. I had it all the time. Scroll through the Sony Headphones app and there's so much to find useful, and some just plain useless. For example, you can customize touch gestures on the headphones through the app – control voice or ANC, it's your call. The app also does a sort of digital wellbeing where it stores data from all your registered Sony headphones and shows how long you've been listening to them. It even shows if you listen the most while standing or walking! Boy, there are so many things to play with! Even Apple doesn't have that much for its AirPods Pro.
Battery Sony WF-1000XM4
Another area where the Sony WF-1000XM4 impresses! Sony claims up to eight hours of playtime for the headphones on a single charge, and with the case, yoghurt for another 16 hours. My use in the realistic world was limited to 4 hours max per day during my testing and it kept me away from the charger for 8-9 days. Note that I had used it mostly on an iPhone, which means no LDAC codec. Also, I left the adapter's noise isolation feature on, which adjusted the noise cancellation modes on its own.
As for charging, it takes over two hours via the wired route and much more when you put it on the wireless charger.
Verdict
It's no surprise that reviewers love the Sony WF-1000XM4 all over the world. It exceptionally delivers where it counts – impressive audio performance. The WF-1000XM4 headphones are tuned to sound exactly how you'd expect a premium pair of headphones to sound. There's superb clarity, powerful mids and quality low-end grunt as well as tasteful bass; a combo that superbly pampers the ears. Factor in Sony's equally superbly tuned noise-canceling system and clever array of features to get the most out of the package, and we've got an easy recommendation ourselves. Oh, and don't forget the terrific battery life.
So if you have Rs. 20,000 to spend on a pair of TWS headphones (or unlimited money), will it be the Sony WF-1000XM4, or should you consider the Sennheiser Momentum True Wireless 3 and the Apple AirPods Pro. Compared to the Sennheiser, the Sony pampers most ears with its classic Sony tuning. The AirPods Pro seem lifeless in comparison and the ANC is definitely not as good as the Sony.
So unless you fancy that fine balance offered by Sennheiser headphones, we recommend the Sony WF-1000XM4. Our top recommendation for the best TWS headphones in India right now, all things considered.
Product Name
Sony WF-1000XM4
Advantages
Superb sound tuning
Well balanced ANC
Great battery life
Features
Soundproofing

ANC + transparency

Battery

8 hours + 16 hours case

Operating system support

Android, iOS

Connectivity

Bluetooth 5.2