Three African artists named winners of the Aga Khan Music Awards 2022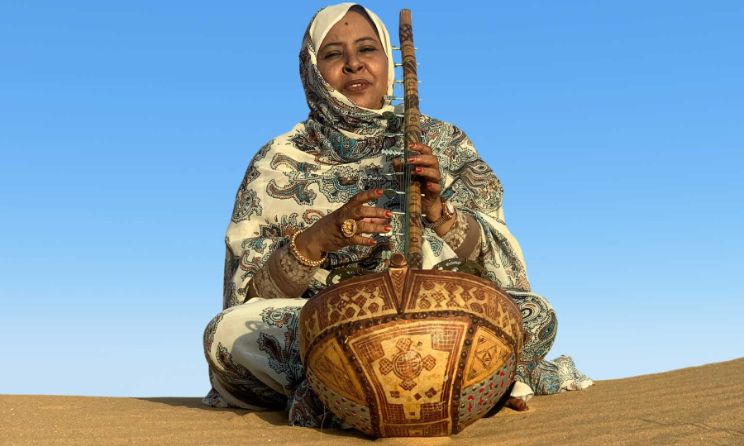 The triennial awards, established by His Highness the Aga Khan in 2018, recognize outstanding creativity, promise and entrepreneurship in music in societies around the world where Muslims have a significant presence.
Winners will share a $500,000 prize and have the opportunity to broaden the impact of their work and grow their careers. These include commissions for new works, recording deals and support for pilot educational initiatives with the aim of gaining recognition for today's generation of artists and inspiring and supporting a new generation of performers and composers in East and West.
The winners of the Aga Khan Music Awards will be celebrated at a ceremony and series of affiliated events in Muscat, Sultanate of Oman, held in conjunction with the Aga Khan Award for Architecture from 29 to 31 October 2022.
"No other award or prize focuses on the constellation of devotional music and poetry, indigenous classical music, traditional folk music, and tradition-inspired contemporary music that has flourished in the cultures shaped by Islam," organizers said.
The winners were recognized for their commitment to contemporary social and environmental issues while supporting and developing musical traditions. They serve to fill a unique cultural need by recognizing and developing exceptional creativity and promise in music and music education in societies around the world.
In naming the winners, the main awards jury has expressed its desire to support as many outstanding nominees as possible from the geographically and culturally diverse pool of nearly 400 nominations at a time when musicians and music educators are in dire need. While contributing to the preservation and continued development of musical heritage, many laureates tap into the power of music to raise awareness of social and environmental issues.
The winners of the 2022 Aga Khan Music Awards are:
Zakir Hussain (India)
Hussain received the Special Lifetime Achievement Award in recognition of his highly visible model of enlightened cross-cultural musicality who elevated the status of tabla in India and around the world through countless artistic collaborations, concert tours, commissions , recordings and films. scores.
Afel Bocoum (Mali)
Bocoum is a singer and guitarist from Niafunké, Mali, whose music combines acoustic guitar with local instruments to echo the sound of "desert blues" in a more earthy and traditional style.
Asin Khan Langa (India)
Langa is a sarangi player, singer, composer and community activist from the hereditary Langa musical community of Rajasthan, who performs Sufi poetry to traditional and newly composed melodies.
Coumbane Mint Ely Warakan (Mauritania)
Ely Warakane belongs to a hereditary caste of musicians-poets-singers (griots) in Mauritania called iggāwen in local Hassāni Arabic. Her own family represents the Iggāwen tradition of Trarza in southwestern Mauritania, where she learned from her aunt, singer Wana mint Bouban (1933-2022), to sing and play the ardin, a harp angular with a calabash resonator which is still played by women.
Daud Khan Sadozai (Afghanistan)
Sadozai is one of the leading exponents of Afghan rubab which has had a major impact on the preservation, development and dissemination of Afghan music around the world.
Peni Candra Rini (Indonesia)
Rini is an Indonesian composer, improviser, singer and educator whose knowledge of traditional Indonesian performing arts informs her creation of new works produced around the world.
Soumik Datta (United Kingdom)
Datta is a sarod player who merges his background in Hindustani classical music with pop, rock, electro and movie soundtracks to raise awareness of pressing social issues including climate change, refugees and mental health .
Yasamine Shahhosseini (Iran)
Shahhosseini is a young oud master who is reinventing the place of this instrument in Iranian music through her innovative compositions and improvisations.
Zarsanga (Pakistan)
Zarsanga is a singer from Khyber Pakhtunkhwa, Pakistan, known as the queen of Pashtun folklore for her career-long devotion to the orally transmitted traditional music of the Pashtun tribes.
Special Mentions:
Dilshad Khan (India)
Khan is a 10th generation sarangi player from a hereditary lineage from Rajasthan who is expanding the language of sarangi in film music and through innovative cross-cultural collaborative projects.
Golshan Ensemble (Iran)
Four women who perform traditional Iranian music with a contemporary sound and are active as teachers, with a particular focus on transmitting their musical tradition to girls and women.
Sain Zahoor (Pakistan)
Punjabi musician with a lifelong practice of chanting Sufi poetry at local shrines and festivals, often accompanied by ecstatic dancing.
Seyyed Mohammad Musavi and Mahoor Institute (Iran)
Founder and long-time director of the Mahoor Institute of Culture and Arts, which has made fundamental contributions to the development of Iranian music and musicology.
Zulkifli and Bur'am (Aceh, Indonesia)
Revitalizers of Acehnese song traditions who have cultivated community development among young people through their participation in Bur'am, a traditional song and drum ensemble created by Zulkifli.
The main jury of the Aga Khan Music Awards also named Musallam al-Kathiry the winner of a special award for excellence in the service of Omani musical heritage. Mr. al-Kathiry, a music researcher, artistic director, performer and composer from Muscat, Sultanate of Oman, has made significant contributions to the collection, documentation, preservation and dissemination of Omani music.
The main jury that selected the winners consisted of six distinguished arts professionals from Azerbaijan, Bahrain, India, Turkey, Tunisia and the United States.
Full the biographies of the laureates are available here.